YOUR SEVEN-YEAR ANNIVERSARY GUIDE
ALRIGHT– so you might know by now that our SEVEN-YEAR ANNIVERSARY PARTY is THIS SATURDAY, JUNE 8th! With an event this large, and with so many components, questions frequently pop-up about the details, and as a result, we have compiled THIS GUIDE for you! Below you will find information about every aspect of the ANNIVERSARY that we could think of. If you READ THIS ALL and still have questions, drop us a line on Social Media or email our our Event Coordinator at: ncbcjoseph@gmail.com
GENERAL INFORMATION
The Anniversary Party kicks off this Saturday, June 8th at Neshaminy Creek Brewing Company, 909 Ray Ave. Croydon, PA 19021. General Admission begins at 1 PM, but VIP TICKET HOLDERS (see below) are granted early entry at 12 PM. EVERY ONE ATTENDING MUST SHOW I.D.! We will be giving out wristbands for those OVER and UNDER 21 years of age- so if you plan on having a beer, PLEASE bring your valid identification so that you don't have to miss out. General admission to the event is FREE and ALL-AGES can attend. We are a dog-friendly brewery, so please feel free to bring your furry friend with you. We will have our three usual indoor bathrooms available, as well as a bunch of porta-potties at the front and back entrances for your use. Backpacks and bags are ALLOWED, but are subject to search. We do allow for re-entry.
PARKING
We will again be offering a FREE parking solution at the KEYSTONE ELEMENTARY SCHOOL. To access this lot, please enter on CHURCH STREET and you will be met by our Parking Management Staff that will be there to help you park your car. We must ask that you BEHAVE YOURSELF at the school. There will be NO "hanging out" permitted. After parking, you can hop on our FREE SHUTTLE that will drop you off on RAY AVENUE, right around the corner from the Brewery. THE SHUTTLE WILL BE RUNNING DURING THE ENTIRETY OF THE EVENT AND WILL ALSO MAKE HOURLY STOPS AT THE CROYDON TRAIN STATION WHICH IS LESS THAN A MILE FROM NCBC.  After being dropped off, you can then enter the brewery via Miller Ave or go around the corner to enter on RAY AVENUE, which is our front entrance. Besides this, there will also be some LIMITED street parking on CEDAR AVENUE and in our facility parking lot. PLEASE obey ALL TRAFFIC and PARKING SIGNS and staff's orders about this- we don't want anyone blocking our amazing neighbor's driveways, or parking on the wrong side of the street, resulting in traffic tickets or towing. We know it can get congested on this day, so PLEASE consider utilizing PUBLIC TRANSPORTATION, LYFT or CARPOOLING. The Septa Trenton Regional Line, Croydon Stop can be used to get here.  You will be let off by the train less than a mile away. Our shuttle will be making hourly trips from the train station to NCBC!
ADMISSION
As mentioned above, you can enter the Anniversary festivities either via MILLER AVENUE (which will lead you into the Warehouse area, where vendors and food trucks are located) or RAY AVENUE (where our main Taproom is). We will have I.D. Check stations on both streets, and from there, you can head to the beer ticket stations, vendors, or if it applies, to the VIP STATION, which is located in the Taproom, accessed most easily by the RAY AVE entrance. Again, GENERAL ADMISSION IS FREE and ALL-AGES, please have a valid I.D. if you plan on drinking.
VIP TICKETS
If you purchased one of our VIP TICKETS (sale ends on Friday, June 7th, at 12PM– so GRAB YOURS HERE TODAY), you have access to the event at 12PM, instead of general admission at 1PM. This allows for you to come in, shop with the vendors, grab a few beers, and acquire all of your goodies before the general public is admitted an hour later. We will have a special VIP STATION set up in the MAIN TAP ROOM, most easily accessed by entering on RAY AVENUE. At this station, you will be given all of your materials, including your FOUR PACK of "WE ATE SAND SOUR IPA" ANNIVERSARY BEER! This four-pack is for OFF PREMISE CONSUMPTION ONLY. So please store it with your car, or hold onto it and enjoy at home. Draft of this delicious beer will be available at the brewery, so don't worry. PLEASE DOUBLE CHECK and/or GET IN TOUCH ASAP! Additional t-shirts, posters, and four-packs of "WE ATE SAND SOUR IPA" (limit 3 total per person, including your 1 that you get with your VIP Ticket) will be available for sale as well.
LAYOUT
We will have I.D. checks, beer tickets, and beer pouring stations located at both the front entrance (Taproom / Ray Ave), as well as in the back (Warehouse / Miller Ave). Due to some changes we've been forced to make, the plan is to have the bands perform on our INDOOR STAGE, just like our regular shows, but this is subject to change. The majority of our food trucks can be found on Miller Ave but you can catch Vendors, Rare Beer Stations, Face Painting, Caricature Artist, Bounce House and our indoor picnic area can be found inside our warehouse space. Live Tattooing can be found up near the Taproom and, lastly, a large 20×60 tent and an outdoor picnic area can be found in the parking lot in front of the taproom, along with two food trucks.
BEER
As mentioned above, our Anniversary Beer, one we create and release especially for this event yearly, will be available in FOUR-PACKS! "WE ATE SAND SOUR IPA" is the name of our brew this year, and it is an Orange Juice Bomb of a DDH IPA we are sure you will love. Only 150 cases of this beer will be available, with the first 4-packs being designated for VIP TICKET HOLDERS. The rest will be available at the brewery with a limit of 3 per customer. It will also be available on draft, in crowlers when four-packs sell out, and in limited supply at the BOROUGH BREWHOUSE in JENKINTOWN. We will have regular beer pouring stations located at the Taproom bar, as well as a bar in the back warehouse area. Between these stations you will be able to get our core beers, the seasonals and limiteds we have available right now, as well as wine, cider, mead, and soda. We will also have our famous Rare Beer Station (list below) set up in the back warehouse, which will include some popular NCBC seasonals and Bourbon Barrel Aged selections that aren't typically available in the Taproom this time of year. Water kegs will be placed around the brewery with signage and cups for you to enjoy. PLEASE PLEASE PLEASE utilize the trash cans that will be set up around the brewery to dispose of any cups, plates, and other trash. Also, please notify any staff member if you see someone partaking in a beer that maybe shouldn't be.
SIX-YEAR ANNIVERSARY RARE BEER STATION LIST: Raid the Eisbock; Knee Jerk Reaction, BBA Smoked Chocolate Rye with Vanilla and Raspberries; BBA Punkless 2018; Winter Wheat Wine; Stole My Eyes, American Barleywine; 4 Corners Quad; Concrete Pillow 2014; Scottish Pillow; Cherry Vanilla 4 Corners Quad; Leon 2019; Fruhstuck; Octoberfleshed, Blackberry Imperial Marzen; Redenen , Peach Apricot Saison; BBA Leon 2018; Function is the Key, BBA Coffee Horchata Punkless; BBA Punkless 2016; Fruhstuck 2017; Alembic, sour dark wheat with raspberries and Vanilla.
*NOT ALL OF THESE BEERS WILL BE ON TAP AT THE SAME TIME! We will also have our regular draft list available, which you can access on our BeerMenus page!
MUSIC
Music will start on the INDOOR STAGE inside the brewery around 2PM with Jersey Shore punks, SCHOOL DRUGS kicking things off. From there, we will head to the pop punk hooks of FIRE IN THE RADIO, with train-hopping legend and Avail frontman TIM BARRY tearing up the stage after them. MODERN LIFE IS WAR will then be putting on a show of epic proportions, with Philly's favorite son, DAVE HAUSE & THE MERMAID closing out the show. We won't be releasing set times for the bands, but given the show ends at 7PM and these are punk bands, try and do the math. We want everyone to enjoy themselves, but please be respectful of your fellow party-goers!
FOOD TRUCKS
Food trucks will be parked out back by the MILLER AVE entrance, as well as out front by the RAY AVE entrance. Trucks this year include EL TLALOC, KUSH'S SLIDERS, OINK & MOO, BUZZETTA'S FESTIVAL FOODS, MOM MOM'S POLISH FOOD CART, AND HUMPTY'S DUMPLINGS. We, unfortunately, do NOT have access to the menus for the trucks ahead of time, but they usually make sure to cover a variety of dietary needs in their menu prep. Please see each truck's operator to ask about specifics.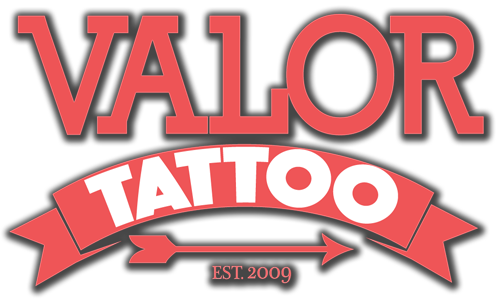 LIVE TATTOOING
NEW THIS YEAR! We're extremely excited to announce that Sue Garcia and Brian Bock from our good friends at Valor Tattoo will be hanging out with us ALL DAY and ripping off $60 jammers from a set of pre-designed flash that you can check out the day of the event! Choose from select JP Flexner designs that feature your favorite NCBC can characters (these designs are in the $120 range) or a collection of $60 beer/punk-inspired flash designs! Please remember that these spots are first come, first served which means the earlier you get in line, the better of a chance you have of scoring a sweet new tattoo at your favorite punk brewery!
FAMILY-FUN
As in years past, we try to make sure we have plenty for families to enjoy, so the young ones don't feel too left out! This year we will have attractions including a bouncy castle, giant playground slides, ice cream, caricatures and face-painting available to enjoy, no matter your age. They will be predominately spread across the warehouse area and outside. We will have our usual lineup of awesome arcade and table games available to play in the Taproom as well!
VENDORS
One aspect of the Anniversary Party that we started last year and went over so well is to include some of our favorite VENDORS in the event. We hand-picked and curated the list of vendors that will offer up some truly unique art and mesmerizing merchandise you can bring home with you to remember your day with us! Our lineup this year includes: TheStrangeCaseof Handmade Jewelry, Say-10 Records, Twisted Ravens Den Clothing, Meowchemy, Artist David Jablow, Bottle Wicks Candle Co, Chris Kerek Art, Outer Limits Hot Sauce, Olde13syrup Bourbon barrel aged syrup, Scrumptious Scrubs, Vixen Vintage, Grim Garden Psychedelic Clothing, Squeak Wells Pet Accessories, Wayward Leather Design, Stumpwood Housewares, REBEL! Sticker Campaign, Roadside Linen Arts, Lost art vintage instruments, Dead Sled Coffee!
TO SUM UP:
We spend many hours trying to organize and then execute this awesome day that is FREE for you to attend every year in order to help us celebrate our milestones as a Brewery. We offer a ton to do and enjoy at this party, and only ask that you have fun, respect our facility, neighbors, and staff during the event. If you have any concerns or questions, we will have staff members (with a giant STAFF logo on the back of their shirts) scattered throughout the brewery during the day. We hope you enjoy this day just as much as we do. Make sure to use #NCBCBeer, #NCBCSeven and #ThePunkBrewery in your social media posts, and keep an eye on our social media accounts throughout the week for some more updates on the party!
Cheers to Seven-Years of NCBC, and many more to come!