TPRFM AFTER PARTY INTERVIEW WITH YOU VANDAL
February 10th at 7PM, when the TRENTON PUNK ROCK FLEA MARKET at Neshaminy Creek closes, the AFTER PARTY kicks off!
Such Gold is headling with support from Goddamnit, Sleep In., and Gainesville, Flordia's YOU VANDAL.
We chatted with Eric from You Vandal as the first interview in a series we will be publishing heading into the big show!
For those that may be unfamiliar with You Vandal, please introduce yourself, the rest of the members, and give us a brief history of the band:
I'm Eric. I sing and play bass in You Vandal.  The rest of the band is comprised of Alex and Gooch on guitars, and Millsaps on drums.  Alex and I started the band back in '09 with a group of our friends at the time. For a couple years, we mostly just put demos out and played around Florida. School, work, and life, in general, got in the way for a few more years after that, but we kind of rebooted somewhere around '13 or '14 and we've been rolling steady ever since.
I'm surely making a bold guess by assuming the band is named after the Saves the Day song. If so, how has pop-punk and bands like Saves the Day influenced your own band, and what are your thoughts on the current state of pop-punk music?
The name is definitely a Saves the Day reference. They were a favorite of everyone in the band back when we started. Over those first couple years of playing shows, we probably covered an album and a half worth of Saves the Day songs. We were heavily inspired by late 90's and early 00's Vagrant, Fat, and Drive-Thru releases when we were younger. All of that is still awesome, but we've gotten into a wider variety of musical styles over the years.
With a lot of the currently relevant pop-punk, there seems to be an influence bubble. You listen to some bands and get the impression that their only influences are other pop-punk bands, whose only influences are other pop-punk bands, and so on and so forth in an infinite loop. I feel like broadening your listening horizons almost always makes for a more interesting final product.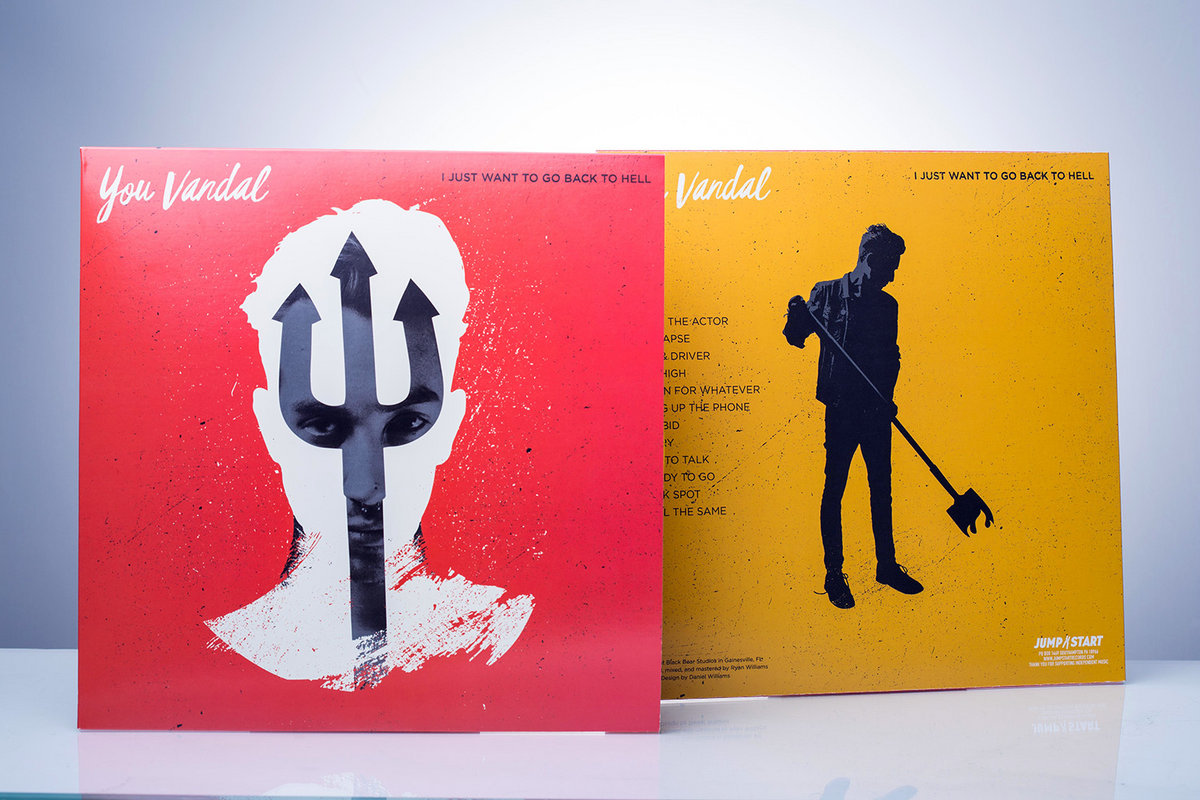 You released your latest album I Just Want To Go Back to Hell with Jump Start Records, owned by Neshaminy Creek's Jeremy Myers. How did that relationship come to be and what have been the advantages of releasing an album on a label with a deep history like Jump Start?
I think I first discovered Jump Start releases when I was in like 8th or 9th grade and getting into punk. We've collected records from them, and in recent years played shows with a few of their bands. We didn't know Jeremy, but we sent him a random email with a link to the album and he was cool enough to get back to us right away. He seemed genuinely stoked on the songs, and we were genuinely stoked on the opportunity to work with Jump Start. It's awesome to work with someone with his level of experience, established relationships, and network of bands connected to the label.
You Vandal is from Gainesville, Florida…home to The Fest, Against Me! and other staples of modern punk rock. How, if in any way, have those forces shaped the band, or just you as people living in that community?
One of the biggest deciding factors in me moving to Gainesville for school years ago was knowing that Less Than Jake, Against Me, and Hot Water Music were all from here. I was more interested in starting a band than going to college, so it seemed like the right spot for me. If not for those bands, I probably wouldn't have moved here or met Alex and started You Vandal. It's also a small town, so their presences are felt all over. We've gotten to record with Roger from Less Than Jake, play shows at the restaurant owned by Warren from Against Me, and have some of our most memorable sets at The Fest. Even our new album on Jump Start was recorded with Ryan Williams, who works sound for Hot Water Music and engineered their newest album. Gainesville is a rad community.
We are a brewery, so I have to ask…what is your favorite beer style, and what NCBC brew are you looking forward to having at your show here on February 10th?
When we were up there hanging out in November, I remember loving everything I tried in the tasting room. We took a variety of cans home with us, and I'd say my favorite was probably the Highwater Hefeweizen. I've also seen Gooch crack open more than a few Croydon Cream Ales. I'll have to try some more of The Shape of Hops to Come as well. Best punk rock beer mash-up ever!
We would like to thank Eric for taking the time to chat with us.
Catch YOU VANDAL on February 10th here at the brewery when they play our TRENTON PUNK ROCK FLEA MARKET AFTER PARTY!
Check out their recent video for "Collapse" off of their latest album, "I Just Want To Go Back to Hell" below: